ブカレスト市街の路線バスで、美しい女性に出会った。この人もきっと、ルーマニアの激動の歴史を体験したのだろうと勝手に想像しながら、その清楚な佇まいに見入っていた。普段なら、こっそり写真に収めて、、、と思うところだが、思い切って声をかけた。笑顔でカメラに向かう彼女、慌ててシャッターを切る私。
偶然、私たちは同じ停留所で降りた。彼女は、しわくちゃの笑顔で私の手をぎゅっーと握り、感極まって、力いっぱい私の肩を抱き寄せた。その状態で、私たちはしばらく通りを一緒に歩いた。言葉はまったく通じない。
言葉がわからなくても通じ合える時がある。できる限りのすべてを使って、「自分をさらけ出すコミュニケーション方法」が、異国の土地にいる楽しさが、私が旅を大好きな理由だった。でも、ドイツ生活が長くなり、通じないことが不便で不都合な場合が増えて、この感覚をすっかり忘れていたなぁ…。そんなことを一瞬の間に頭に巡らせながら、とても嬉しそうにルーマニア語で話しかけてくる彼女の顔をじっと見ていた。
I met a beautiful lady In a local bus in Bucharest. While I was taken by her elegant and sweet aura, I imagined her life which surely went through the turbulent history of Romania, of course, without knowing her personally. I often take a picture without asking but on the day I encouraged myself to ask her by making a gesture of pressing the shutter button. She smiled and started pausing. I hold my camera hastily and started to take a picture.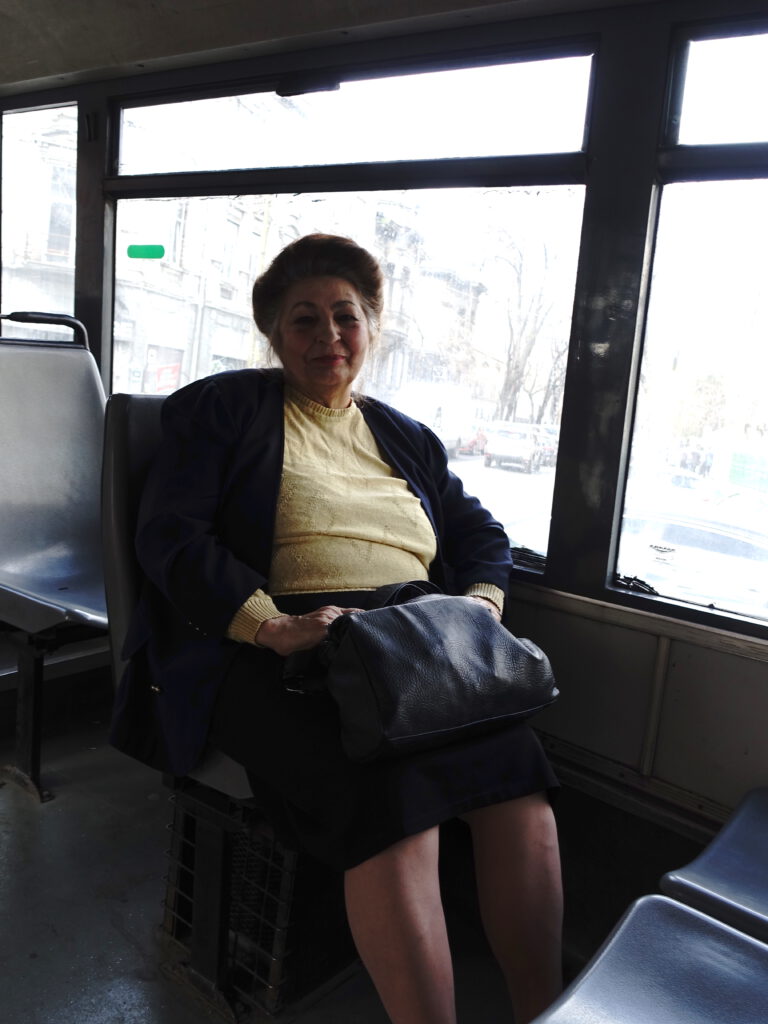 Coincidentally, we got off the bus at the same stop. She squeezed my hand with a broad smile and put her arm around my shoulders very emotionally. In that posture, we walked along the street together for a while. There was no words that we can communicate each other.
Sometimes there is a moment when you can understand each other without words. The situation you use all you got and show yourself is the reason why I enjoy being in a foreign country and love traveling. Since I am living in Germany for a while without improving my German so much, I started to experience more trouble than fun. I completely forgot this feeling of being abroad… Such thoughts went through my head briefly while I was looking at her talking to me in Rumania so happily.
photographed in 03/2019